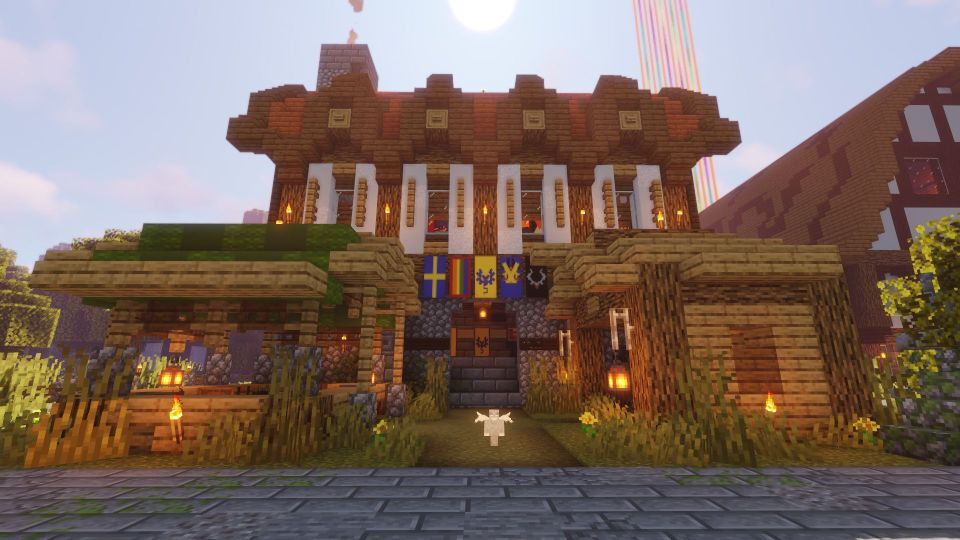 This shop is the first of it's kind on PVC, selling pre-designed banners in a rich variety. Sadly this shop Cannot be seen in cobbletown anymore, as the build has been completely removed. 
The shop was opened in Cobbletown after a week of building and preparing the first batch of banners at the 1st of March in 2020.
Color variants and requests for banners can be addressed at the owner in-game or on Discord.
Price policy
First stack (16) of banners of a design are sold for 16 emeralds. After the first stack is sold out and restocked, banner will be sold for 32 emeralds.
Inventory
Category
Inventory
First floor
Basic banners of all 16 colors
Minecraft

Ominous Banner (limited stock, 64em)

Magenta Banner

Creeper

Enderman

Ender Dragon

Iron Golem

Diamond Sword

Chicken

Ghast

Anvil

Villager

Pop Culture

Tardis

Pokeball

Hyrule Shield

Pikachu

Assassin's Creed

Gryffindor

Animals

Koala

Panda

Fox

Penguin

Bunny

Deer

Turtle

Squid

Black Cat

Wolf

Raven

Guinea Pig

International

Germany

Sweden

Switzerland

USA

Russia

Italy

Netherlands

UK

Phillipines

Denmark

France

Norway

Poland

Bulgaria

Various

LGBT

Dungeon

Rice Bowl

Ocean Wave

Mirror

Trans

Candy Cane

Nether Design

Monster

Phoenix

Ice Dragon

Bow Tie

Golden
Fine print: most banner designs were taken from planetminecraft