You can vote the server once every 24 hours on each of the following websites.
The current reward for voting is 2 Emeralds for each vote and occasionally a DumbPot.
▶ See all the sites you can vote PVC on here
After 50 votes you earn a "50 Votes Certificate". These can be spent at the Devoted shop at spawn for special items that can only be gained through voting.

Sometimes, when voting, you will receive a very strange item: a DumbPot.
A DumbPot is a unique, completely randomized potion. Every DumbPot has 5 randomly applied effects, with 5 different random intensities (positive or negative!). The name is very dumb too! Have a go and see. Maybe you will be lucky enough to receive the ultimate DumbPot: one with all 5 positive effects (and possibly the dumbest name too)!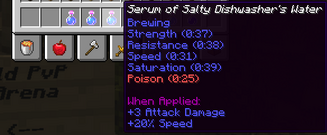 Community content is available under
CC-BY-SA
unless otherwise noted.