Jurassic World: Dominion Dominates Fandom Wikis - The Loop
Play Sound
Potato town is a town started by KLYDE0987 (now OctoKlyde), it's main island is located in a swamp biome.
Places
Potato Union
Potato Union (or POU) was once a union for 82 days, but unfortunately it got inactive because a new player business model is just not sustainable
Potato Village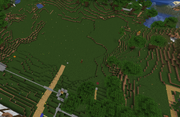 Potato Village is located in a plains biome, its has a bridge that connects it to the main island.
Its currently a work in progress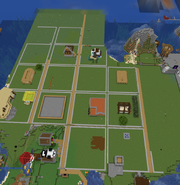 Gaming District
The Gaming District is currently empty, but you can create games in it
Residential District
A plot based residential area, contact vanthenup or vanderrich#9987 to get a plot
Public Storage System
The storage system everyone in potato town can use
Cemetery
a place where corspes rest
90% you wont get robbed
1 year warranty
we don't use corspses as fertilizers
we don't have a phantom infestation
we don't use corspses to make oil
jeliton comes from bones but not yours who would do that
retirement home
your future home
Members
KLYDE0987 (now named OctoKlyde) (founder) (former)
nxptunewastaken (nxptunee/aqxaticsea/hbcx) (co founder)
vanthenup (town manager)
Heartalexa (inactive) (former)
bobthebestone1 (inactive) (former)
IronMikeAce (inactive) (former)
brvwniebite
AceNoFace (inactive)
AdamBoman (inactive)
_Bartolome_ (former)
DaSprout (inactive) (former)
JaztyMania
LovelyLamb
SURYAMIMA (inactive)
Renex_x
Farms
Sugarcane Bamboo and kelp farm, next to wool farm in industrial area
Wool farm, industrial area
Bee farm, next to wool farm
Chicken farm (Potato Fried Chicken, PFC), next to bee farm
Automatic Potato farm, next to cemetery, work in progress
Iron farm, behind brvwniebite's house, planning to be improved, currently offline
Cactus farm, next to bobthebestone1's house
Gunpowder farm behind iron farm and in front of wool farm
Bonemeal 2 high flower farm, next to public storage
Trivia
The town started on September 14, 2021
Its located at -450 -4500
It was named by nxptunewastaken (now aqxaticsea) because he is using a potato skin.
The CVU Merge of 2022
In June of 2022 Potato Town has officially Decided to Merge with Creeper Valley Union CVU.