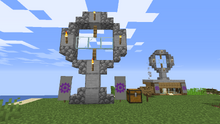 (This page is still under construction. The information here may be incomplete or wrong.)
Gathering of Dawn is a non-theistic religion that was founded by user SirLordSagan. It aims to spread the teachings that carried the people of Daggry to safety.
Teachings
Build with passion, not just for themselves, also for the future.
Never leave a man in need of help.
Share the tale of Dawn, so it's not lost for generations.
Religious Symbols
Skyline Ring: (As seen on the photo) Skyline Ring represents the time of dawn. It is built by 6 smooth stones, 10 cobblestone stairs, 8 torch, 3 glass panes and 2 fence.
'Barbed Helm' Banner: (As seen on the photo below) Barbed Helm Banner represents the sturggles of people and being on the right track. It is a 'barbed helm' on a greyish cross, with a light-to-dark- blue gradient background.
Donations
Gathering of Dawn gives away things for their second teaching, and also make the religion more appealing.
Donations include:
Food (Generall fish or cookies)
Housing (Currently not available)
Helm Banner (Due to new design, currently not available)
Pamphlets (Currently not available)
Currently, there are no donation boxes and they are postponed because of new banner design but they are planned to be build in active locations.
Religious Places
Currently there is one, but not active, religious place for Gathering of Dawn.
Current locations are:
Community content is available under
CC-BY-SA
unless otherwise noted.