Jurassic World: Dominion Dominates Fandom Wikis - The Loop
Play Sound
Flynn's Stones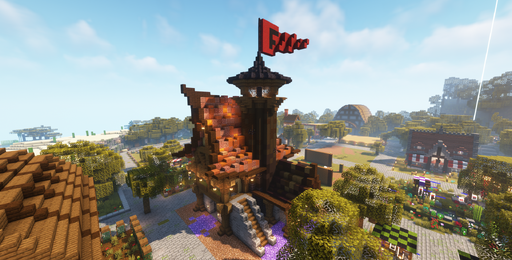 The business and the brand
Flynn's Stones is both a business and a brand operated by Flynn on the Peaceful Vanilla Club server.
The Flynn's Stones motto is "An economy accessible to everyone and partnerships that last." This business outlook led to the development of a shop designed to act as a means for people to use their unwanted rock to earn emeralds, from new players to veterans alike, and ultimately, a business with a mission statement.
It was a conscious decision to ensure Flynn's Stones shops continue to buy single stacks of items, instead of just full shulkers and to use emeralds as the main currency. The idea behind this is to help new players enter the economy faster. Even when Flynn later streamlined his vendors into a single stone vendor at each location, he continued to focus on enabling the newer players to make emeralds by buying single stacks in addition to shulkers.
The second part of Flynn's business motto is that partnerships need to last. As Flynn is committed to making sure his customers are always happy, Flynn discusses business matters in open chat or through private messages, solely at the discretion of his clients. Customers should walk away feeling content with their interactions with the Flynn's Stones brand. You also won't find exploitative pricing in any of Flynn's businesses, just an honest attempt to do business fairly with all players.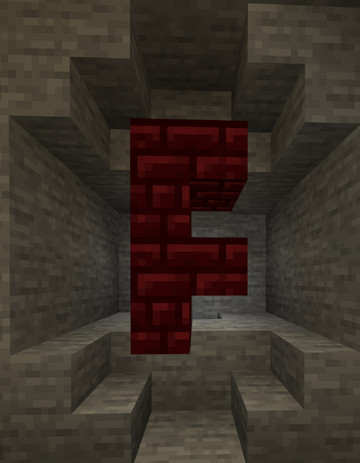 The Shop: Flynn's Stones
Flynn's Stones shops operate by offering customers a chance to rid themselves of unwanted andesite, diorite, granite, stone, cobblestone, blackstone, or end stone while earning a modest amount of emeralds. Most locations are restocked almost daily, if not more often. Each location is equipped to purchase 9 shulkers worth of stone and up to 45 individual stacks. The price offered is two emeralds per stack or 64 emeralds per shulker full of andesite, blackstone, cobblestone, diorite, end stone, granite, or stone.
But Why Does Flynn Want All That Rock?
Flynn wanted to run a business that paid people for something. To do this, Flynn buys rock from customers for about 45% of the cost that he can sell it for. Flynn then stockpiles that rock until he has a lot of it; an awful lot of it. Then Flynn sells it to his 40 Mason villagers for a modest profit both because he sells it in quantity, and also because each mason has been converted to offer a better price. On occasion, other players want to buy a large quantity of rock, and this is another reason Flynn stockpiles, so he can fill most orders with ease. When business later became more optimal, Flynn opted to try and buy cobblestone to smelt and then sell. Later, Flynn also got into buying blackstone and end stone for later resale.
More recently, Flynn has diverted much of the rock he purchases to community projects including the Betaways and the Outer Rim Iceways.
Locations:
Currently, there are presently five Flynn's Stones locations:
Flynn's Stones, Sunset Bay Mall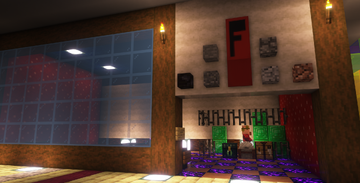 The original Flynn's Stones was built at Flynn's Oceanside Klatsch and opened in September 2021. Eventually, after some successful business, Flynn relocated it to Artemis after being enticed to the area by fellow businessman, HippoTheGamer, but plans changed and this location was closed after about a week due to the property changing hands. The original shop reopened again in November 2021 in its permanent location, in the luxurious Sunset Bay Mall. This location is run by Fred Flynnstone himself.
Flynn's Stones, Cobbletown
A second location was established in Cobbletown in October 2021. This location is run by Bam Bam Rubble. This location was tempoarily closed in March and April 2022 for renovations but has reopened.
Flynn's Stones, Spawn Market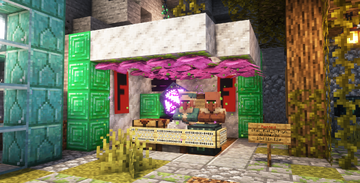 After a few months of waiting for a spot to open up at the Spawn market, Flynn had all but given up on the dream to open a shop there. When one finally opened in late December 2021. Flynn opened his fifth location there within hours of renting the market stall. This location is currently operated by Wilma Flynnstone.
Flynn's Stones, Quartz Hub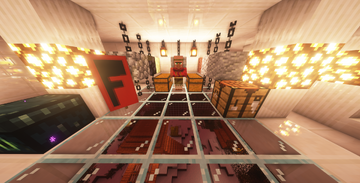 When FlatBandit finally opened up the Quartz Hub to shops, Flynn immediately jumped on board and opened yet another Flynn's locations that was run by Cameron Dias and Ben Driller. When consolidating vendors, Betty Rubble took on managing this location. This location opened in January 2022. Once again, this shop was one of two initial shops opening at the market.
Flynn's Stones, EmLands Atlantic
After the success of his spawn market shop, Flynn moved Hugh Granite to EmLands Atlantic to operate the seventh Flynn's Stones location. Although presently just a stall, a plan is in the works for a nicer shop the EmLands Atlantic plot.
History of Flynn's Stones
The original Flynn's Stones location opened in September 2021 at Flynn's Oceanside Klatsch at approximately 5800, 5200 in the Overworld. The clever name was proposed by Midna and set off an advertising campaign loaded with puns.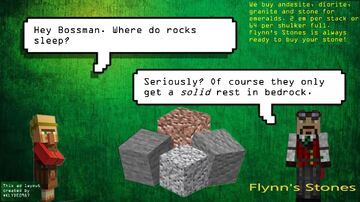 Consolidation of Vendors March 2022
In March 2022, Flynn found his vendors stretched too thin across six locations, and decided to consolidate all the cobblestone shops with all the stone shops. This resulted in 6 more vendors along with an additional one from shutting down the Netherrack Shack in Sunset Bay. With vendors available to re-deploy, Flynn opened his seventh shop location in EmLands Atlantic in mid-March, 2022.
The Flynn's Stones Subsidiaries
The Flynn's Stones brand name represents all of Flynn's businesses. All of Flynn's store locations are simply called "Flynn's" and sometimes include multiple shop vendors (or shops).
Additional businesses operated by Flynn are listed below:
Flynn's Masons at Flynn's Oceanside Klatsch
Flynn's attempt at a membership-based business has proven fruitful with Flynn's Masons. At this location, Flynn offers the full site service and access to 40 masons offering quartz and all types of terracotta. Flynn also offers a "Buy-It" service here as well. This business has been in operation since September 2021.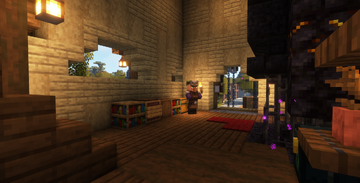 Flynn inevitably tried to offload some items at discount prices and was met with great success. Barney's has continued to offer great deals since September 2021, moving toward a more gear-based product line for several months. Since reopening, Barney expanded his operation to offer the same things as Maskully Caulkin's shop at the Flynn's in Spawn Market. Barney can be found on the second floor, whereas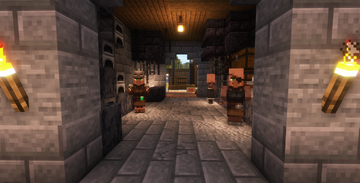 Pebbles' Pebbles in Cobbletown
Just up the stairs from Barney's Boutique, Pebbles Flynnstone offers a price list for a wide variety of stone-based products, in addition to the ability to purchase rarer stones from her stock directly.
Flynn's Gear Shop in Cobbletown
Sly Stone, Stony Curtis, and Joe Rockhead offer bargain deals on fully-enchanted gear in the lower forge section of Flynn's Cobbletown shop. The shop sells fully enchanted diamond, iron, and chain armour, shears, swords and axes, pickaxes, shovels, shields, and more, all for emerald block-based pricing and all with the absolute best possible enchantments. Didn't find what you want? Place a custom order with Flynn directly.
Maskully Culkin's Shop in Spawn Market
After converting a skeleton spawner into a skeleton spawner farm, Flynn opened this shop to meet the demand for bone blocks and bonemeal. This led to ink sales, which lead to a more fleshed-out product line which now includes End Crystal, Hoppers, Emeralds, Amethyst, Calcite, Spore Blossoms, and more.
SurrealSteve's 1.17 Farm Shop
After adopting SurrealFlynn's shop at the 1.17 Community Farm platform, Flynn re-opened the shop as SurrealSteve's 1.17 Farm Shop in order to assist visitors with the farming of glowberries, moss, pointed dripstone, and azalea farming (and other tree farming), The location offers free use of onsite smelting facilities and lava farms, onsite traditional farming, cobble generator, and plenty of space to platn and grow saplings on moss.
Former Businesses
Flynn opened his first cobblestone acquisition shop in Cobbletown. He began offering patrons a single emerald for a stack of Cobblestone in October 2021. In March 2022, Flynn consolidated all his stone businesses into a single vendor at each location and Mr. Slate's Cobblestone in Cobbletown closed for good.
A second shop to buy cobblestone was built in Sunset Bay Mall. Shockingly, this location has also had success buying cobblestone from local customers. Dash's shop was also closed in March 2022 following a revision of Flynn's employed vendors. Dash went on to managing the Dark Market location after
Alongside her mother Wilma's own Flynn's Stone franchise in The Emlands, Pebbles Flynnstone wasn't afraid to open her cobblestone acquisition shop in the popular shopping destination. This shop opened in December 2021 and has been one of the most successful locations. Pebble's shop was closed down in March 2022 due to a re-org, but she went on to become the sole proprietor at Flynn's Stones in The Emlands after he mother Wilma went manage the Spawn Market location.
Stoney Curtis' Cobblestone in the Dark Market (permanently closed)
When the Dark Market opened its doors to private shops, Flynn wasted no time opening his first shop located in the nether. Given a choice of all stalls, Flynn chose a high traffic spot and opened a Flynn's Stones location as well as Stoney's cobblestone acquisition business. This shop opened in December 2021. Stoney Curtis and his business partner Joe Rockhead ran the Dark Market location until March 2022 but retired when the Flynn's Stones re-org occurred,
Hugh Granite's Cobblestone in Spawn Market (permanently closed)
When a spot in the Spawn Market finally became available in late December 2021, Flynn jumped at the opportunity to have a spawn business. Hugh's cobblestone acquisition business had a customer waiting to sell their cobblestone before the shop was even set up. His business partner Sly Stone retired, so Hugh now runs the EmLands Atlantic Flynn's Stones shop.
Perry Masonry's Netherrack Shack (permanently closed)
Upon Sunset Bay Mall's grand opening (Oct 2021), Flynn opened a shop offering customers all things netherrack. Unsurprisingly, as the nether is full of netherrack, this shop failed to impress either customers or Flynn himself, and in March 2020, Flynn opted to close it down.
Flynn's Stones, The EmLands (permanently closed)
The third location of Flynn's Stones was established in The EmLands in December 2021. The shop is in the old Nether Shop just outside the town's portal. In the interest of preserving a bit of history, Flynn chose to only slightly modify the original build to suit his commercial needs rather than build a new structure. This shop was run by Pebbles Flynnstone. Unfortunately, this site was closed in April 2022 due to lack of business. Once the more popular EmLands Atlantic opened, Flynn resisted the urge to move or close but eventually had to pack it in.
Flynn's Stones, The Dark Market (permanently closed)
A fourth location was opened in the Dark Market in December 2021. The shop was one of two initial opening shops at the Market. It was initially run by Stoney Curtis and his partner Joe Rockhead, but the shop is now closed permanently since June 2022.
Not-for-Profit
After building many iceways in the southeast and north areas of the nether as part of the Llama Iceways, Flynn Ice was created the moment gOthp0p jokingly told Flynn that he was "on Flynn ice."
After completing the Farlands Iceways project in early December 2021, Flynn adopted the clever name for his not-for-profit wing, and decided that the Farlands Iceway would be Flynn Ice's first major project. Flynn went on to building the Southern Outer Rim Iceway (SORI), which later became better known as the North-South (NS) SORI when Flynn built the East-West (EW) SORI which at the time of the writing is 35km long.
Flynn also contributes to the community as a member of the Games & Competitions Union, which is known for regularly putting on community events once a month. Flynn is a regular supplier of materials to the Union, coordinates their inventory stores, and has also dabbled in the more creative building aspect having placed at least one block on the site of an event. Flynn's first creative project was the great pumpkin patch game, "Oh my gourd, I love The Fall" in the GCU Halloween Event 2021, where contestants either fell to meet their demise or kept trying until they won a prize. Flynn has been a member of the Union since September 2021.
Flynn also works as an active member of The Wiki Bunch by regularly editing, creating, and proofreading articles and by helping to develop the fledgling guild.
Flynn also invests time as an active member of the community of Sunset Bay, working to further develop the town alongside other active residents. Currently, Flynn is fulfilling the Treasurer role but he was also the town's former Minister of Infrastructure. Flynn has further developed the original villager trading hall, was also heavily involved in the Sunset Bay Nether Hub refurbishment project, turned an adopted multi-farm build into a public farm, and has participated in the revitalization of the industrial district.
During the construction of the Betaways Project, Flynn donated a large portion of the project's required cracked stone brick in addition to some other items that were requested by the project's organizers.
Prior to the Outer Rim opening, Flynn constructed a large platform (which SurrealFlynn later helped complete) in order to draw out the wandering trader in an effort to obtain v1.17 items that were otherwise unavailable (as new 1.18 land had not yet been opened). With luck on his side, Flynn was able to spawn a trader that had pointed dripstone, and called on friends to join him at the 'wandering trader' farm to come for drip stone, but also to hopefully spawn more traders. Flynn immediately took to trying to get a minimal amount of dripstone before giving it away to others who had come to join the 'wandering trader party' but eventually, it became clear that everyone was willing to hang around and to further develop the platform while waiting for the pointed dripstone to multiply. Although another trader spawned but it did not have any 1.17 items. The 1.17 (1.18 Community Farm) was eventually developed. Some structures were raised and lowered during the impromptu 'wait for the dripstone to grow' (or the 'spawn the wandering trader party') community event but the platform was transformed by the community into turned into a large area where players could freely acquire glowberries, moss, azaleas, pointed dripstone. SurrealFlynn opened an unclaimed shop on the site, but Flynn eventually turned into a claimed shop that aimed to make it easier to farm or just acquire the items available for free at the farm. Flynn also constructed cobblestone generator, a public lava farm and a public smeltery on the site @ 5200 6200.
When the Outer Rim opened in April 2022, Flynn immediately set to work extending the Southern Betaways iceway into the Southern Outer Rim, and called it the Southern Outer Rim Iceway (SORI). Flynn's Llama Iceway's pal LarryTLlama and SurrealFlynn both helped to complete the iceway's first goal, to reach the 16000z mark. The iceway had to tunnel through mountain ranges to reach it's goal.
Since then, the SORI has pushed further south to the world border and also reached its goal in both the East (at 16000x) and the West at (at -16000x) (thanks to the concerted effort of Flynn, GreenGlowStick, MerfKat, LarryTLlama and Dez403. Currently, it's at 35km long, but will soon be 38km long, spanning the entire width of the map.