Jurassic World: Dominion Dominates Fandom Wikis - The Loop
Play Sound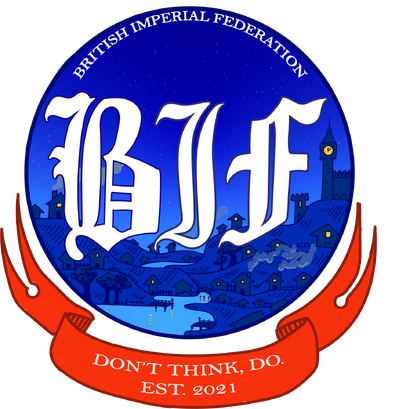 A casual union with the idea of creating and building a designer area in the areas not usually touched by the standard Minecraft Player!
The main focus of the British Imperial Federation is to let out the creative freedom of players with no restrictions, be it by lack of resources or just open space.
The idea also runs that people have freedom to do what they want, when they want. People can choose to work more on their own, or group collaborate to construct things that the server will remember.
Joining the union
https://tinyurl.com/BIF-Applications
Union is currently accepting applications. Please DM golden or anyone from the BIF union to start the application process!
Ranks
At BIF players can get ranks based on their performance within the union and/or on their own talents.
There currently are 2 different ranks:
Officer Of The Empire - Players who have done great contributions to the union and are of great leadership. These players help with the organization of the union. Their aim is to make decisions on how the union should go, how it might change and its path into the future.

Golden
PhoenixJoe
FlatBandit
Acekillerboss
Parliamentarian - Players with great talent in a particular field. These players help with union or personal projects. They are the people that head up various different areas of BIF projects, whether it be planning or making sure all resources etc are ready for the project!

AltereMagier -- Builds
Bluedaisyy -- Helper/Material Gatherer
HunterOcelot27 -- Helper
Chancellor of the Exchequer - Players who are responsible for all economic and financial matters of the union, such as keeping an eye on the union financial reserves, hand out for projects and union investments.
EE
EE is owned and operated by members of BIF.
Certune
Certune gold farm is owned and operated by members of BIF.
Projects
Union Projects ( Ongoing and future projects of the Union)
Creation of Union Base
Nether hub renovation ( ongoing )
Construction of PvP Arena ( ongoing )
Construction of Village District ( ongoing )
Constuction of Public Farm ( ongoing )
Construction of Outer and Inner railways ( future )
Union projects ( finished projects of the Union)
Creation of the desert temple
Re-opening of Certune Goldfarm
Personal Projects
Districts
There are different Areas over the BIF estate with those being:
Village District
The village district will be home to a complex network of all the different trading professions, including: farmers, butchers, masons and more!

Desert District

The desert district is and will be home to the Desert Temple and the Public Farm that are next to the village district.